Sarasota, Florida
, U.S.A
Russian Festival Concert
Saturday, July 13, 2013

Program
Washington Balalaika Society
THE WASHINGTON BALALAIKA SOCIETY was founded in 1988 by a group of musicians interested in studying and performing the music of Russia, Ukraine and Eastern Europe on traditional Russian folk instruments – the balalaika, domra, bayan and related folk wind and percussion. The Society's initial membership of eight has grown to more than sixty and the WBS Orchestra is now the largest of its kind in the United States.

The Orchestra presents several concerts each year including its annual Spring Concert, and appears at festivals and other public and private events during the year.

The WBS Orchestra has performed at the Kennedy Center Concert Hall with the Paul Hill Chorale; Carnegie Hall in New York; Constitution Hall and the Smithsonian Institution in Washington; James Madison University; The Theater at Washington, VA; Walters Gallery in Baltimore and the Ceres Mansion in Fredrick, MD, national Cherry Blossom Festival and the Russian embassy as well as many other venues in the greater Washington area.

The orchestra contains four active ensembles within the group:

The St. Petersburg Trio, the Washington Balalaikas, the Russkiy Musikanti and the Beltway balalaikas.
Ensemble (To Be Announced)
Bibs Ekkel
BIBS EKKEL was born in England of mixed Polish-English background. His career as one of few outstanding professional balalaika players outside Russia has brought him much recognition worldwide, including Russia, where he has performed at festivals, on radio and TV. His style elevates the balalaika to the stature of concert instrument while retaining close ties with the instrument's folk heritage and he has entertained Royalty and ordinary folk alike in settings ranging from cabaret to concert hall. Along with recordings for record libraries and film scores, he has recorded several solo balalaika albums and some with his group "Tziganka," a highly successful Russian folk music and dance ensemble that began touring internationally in 1975.
Barynya Ensemble
The Russian music, dance and song ensemble BARYNYA, established in the year 1991 in New York City, is a world renowned group that enjoys exalting stature as the premier Russian folk ensemble outside of Russia. Barynya under the direction of Mikhail Smirnov, presents Russian, Cossack, Ukrainian, Jewish and Gypsy Roma traditional dancing, music, songs, and virtuoso performances. Barynya has been invited to perform at some of the most prestigious cultural venues in the United States, including Carnegie Hall in New York, the National Constitution Center in Philadelphia, the Smithsonian Institute of America in Washington D.C., the United Nations in New York, and the Russian Embassy in Washington D.C.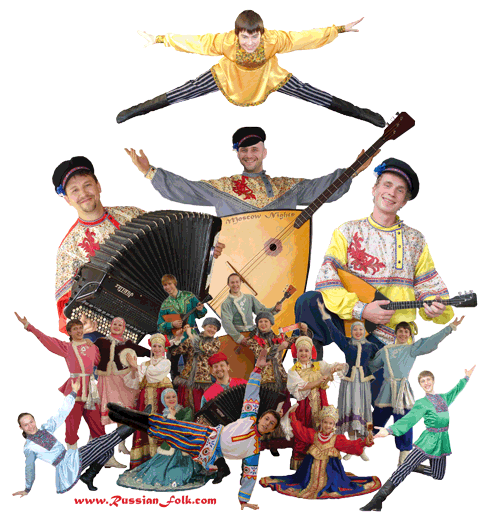 Golden Gates
In 1993, the company, GOLDEN GATES was created in St. Petersburg, Russia. Drawing upon students from the Author's Aesthetic Music Secondary School, these children became the first members of the group and they began performing at various cultural events, folk festivals and concerts throughout Russia, Asia, Europe and America. Ages from ten to eighteen, the group now includes Russian dancers as well as singers. The dancers will thrill the audience with their skillful virtuosity, colorful costumes, syncopation of footwork and gymnastic leaping of foot-stomping ferocity.
Balalaika Artist
ANDREI SAVELIEV is originally from St. Petersburg, Russia, with musical training starting early in his youth. He began his pre-college education in a music curriculum, then attended a musical college, and eventually graduated from the Rimsky-Korsakov Conservatory in St. Petersburg. He was trained as a balalaika soloist and has an extensive repertoire of performance pieces. He played balalaika with the Andreyev Balalaika Orchestra after graduation, as well as with local and touring ensembles before immigrating to the U.S. in 1996. Currently, Andrei is a balalaika soloist for the Washington Balalaika Society and plays contrabass in the St. Petersburg Trio. Andrei loves teaching by using the same techniques he learned as a student in St. Petersburg. His students, many of whom have studied with other teachers, universally confirm him to be the best instructors they have ever had.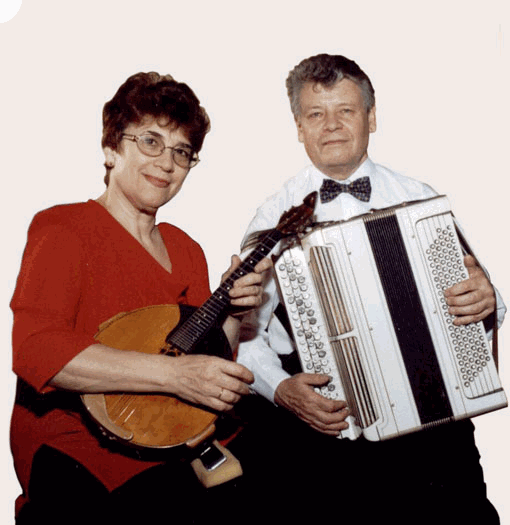 Domra and Bayan Artists
TAMARA VOLSKAYA
, world master of the four-stringed domra, studied at the Tchaikovsky State Conservatory of Music in Kiev.

Upon graduation, she was appointed Professor of the Domra at the Mussorgsky Ural State Conservatory in Ekaterinburg, Russia.

She organized and headed the Folk Instrument Faculty at the Conservatory's School for Gifted Students in Russia.

Many of her students are winners of international and national competitions; Volskaya is a "Merited Artist of Russia" and a Laureate of the USSR competition.

She had conducted numerous master classes on the domra and mandolin worldwide, and is the author of several published scholarly works on the domra. She appears as a domra and mandolin soloist with orchestras all over the world, performs in "the Russian Duo" with Anatoliy Trofimov and with the "Abaca" string band.
ANATOLIY TROFIMOV, a master of the bayan, graduated from the famous Gnessin Institute of Music in Moscow. He is a Gold Medal winner of the prestigious International Competition in Vienna, attained the status and honor of "Merited Artist of Russia," and was a Professor and a Leader of Folk Instruments Department at the Mussorgsky Ural State Conservatory in Ekaterinburg, Russia. Trofimov has composed and arranged many works for domra and bayan, folk ensembles and orchestras.
"THE RUSSIAN DUO" – Tamara Volskay and Anatoliy Trofimov comprise one of the most remarkable and inspiring musical duos to be found anywhere in the world. Winners of international and national competitions, they have toured throughout Russia, Europe, Canada, Australia, Japan and have recorded several CDs.
Balalaika and Domra Association of America Festival Orchestra
T
he Balalaika and Domra Association of America (BDAA) was formed in 1978 by three musicians interested in the study and performance of Russian and Eastern European music on the traditional folk instruments of Russia -- the balalaika, domra, bayan (Russian accordion) and related folk wind and folk percussion instruments. In its 35 years of existence the Association has grown to an international membership of over 400, with connections to many orchestras and ensembles worldwide. The common bond is music, and a desire to learn more about it in the company of others with similar interests.

This year's honored guest conductor is Svetlana Nikonova, the Artistic Director of the Washington Balalaika Society.
Vocal Soloist
IRINA ZAGORNOVA was born in Russia. In 1985 she graduated with high honors from the Musorgsky College of Music in St. Petersburg, where she studied folk singing and classical piano. In her career, Irina has performed as featured artist expedition throughout Russia. She has particularly excelled in the genre known "Chastushki", or "ditties". Her ebullient personality and dynamic stage presence are exceptionally well-suited to the playful manner in which these humorous love songs are traditionally performed with various ensembles throughout the World. An expert in Russian musical folklore Irina sings in the authentic Russian "open throat" style characteristic of Russian Folk Singing and has collected material on several.
Violin Soloist
ROGER FOREMAN was awarded first place in the 2010 BDAA Original Composition Contest. He will be playing his winning composition, Taborniy Vecher on the violin accompanied by the BDAA Festival Orchestra. Roger received his Bachelor Degree in Music Composition from the University of Arizona in 2008 and his Masters Degree in Music Composition at Florida State University in 2012. He is currently a Senior Criminal Justice Information Technician in Tallahassee, Florida.